IT Services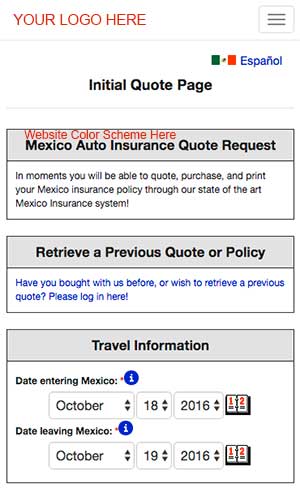 Agents, if you are using our web2web system to sell directly to clients from your website, please test your link to ensure that our rater is mobile friendly on your website.
If it is not, please call Denny Lauritsen at 1-844-273-5527. We have two options to make your rater mobile friendly:
Option 1: We have a generic mobile friendly "look and feel" that we can make live on your website immediately, for free.
Option 2: We can add your logo and color scheme to your quote form so it looks similar to your website. The cost for this service is $500 (negotiable, based on production).
If you choose Option 2, we will need the following from YOUR web team.
Header
Your Logo and URL it should be linked to; to be used in top left of standard MIO template.

HTML/CSS Bootstrap
If you choose to change the header or footer, you must provide them entirely using Bootstrap (getbootstrap.com), including the CSS.

Footer Links
We can add links to your website to the standard MIO template footer. We will not be able to modify the color scheme, but will add provided links before or after the International Insurance Group verbiage.

Images
LOGOS must be provided in .png or .jpg format, preferably optimized for the web (for faster page loading times).

Colors
Website color scheme for quote form headers will be provided in hexidecimal format.

Affilate ID
Please provide your MIO Affilate ID.